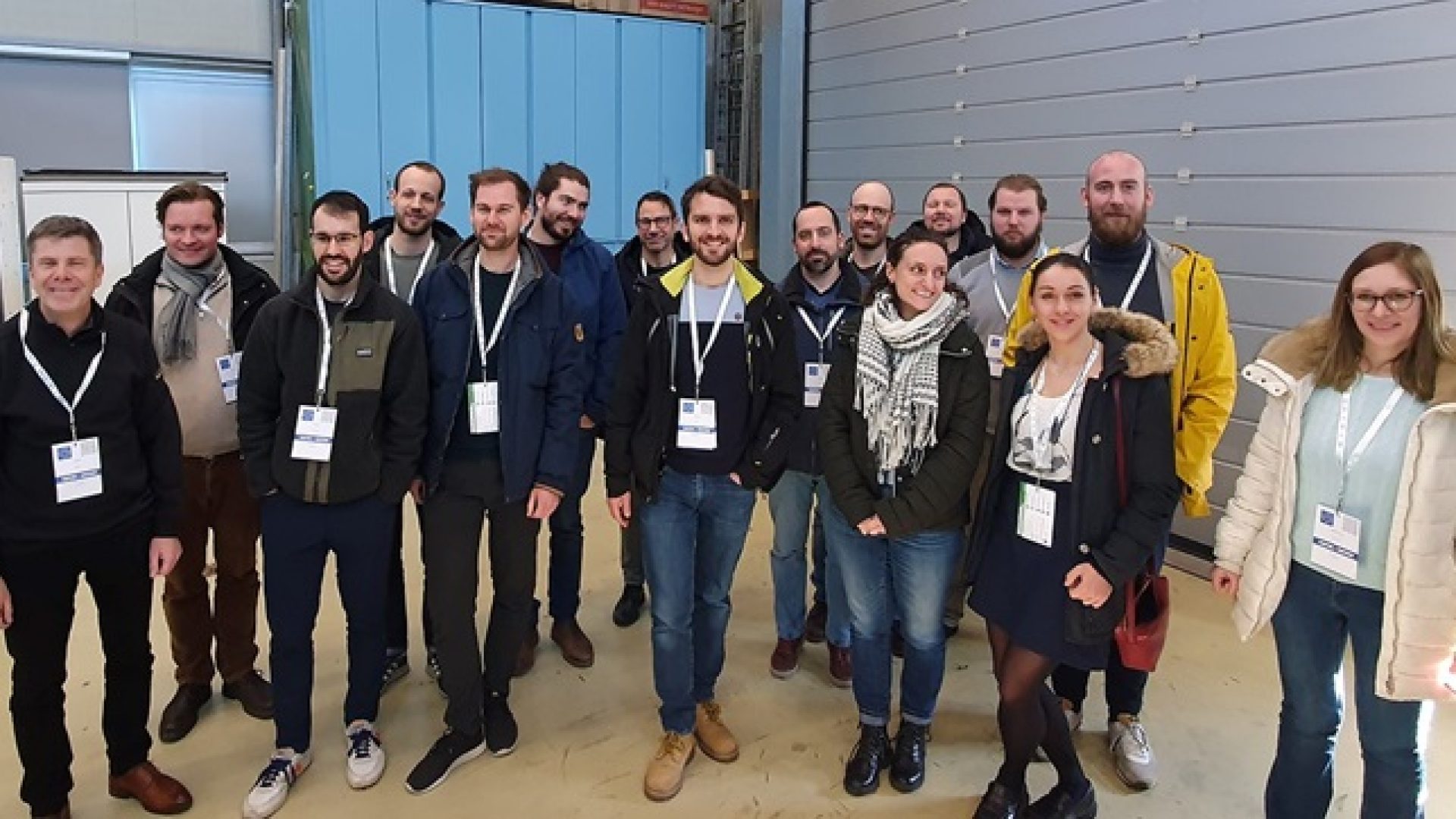 Positrigo appoints Prof. Simon Cherry as Advisory Board member and reports preliminary performance data of NeuroLF
June 8, 2023
Positrigo reports preliminary performance data of its dedicated brain PET system NeuroLF® which are well received by clinicians. Furthermore, the company appoints Prof. Simon Cherry – an award-winning researcher and expert in nuclear medical imaging – as a new member of its international advisory board.
Positrigo, a Swiss based company developing nuclear medical imaging devices to advance functional brain imaging, today released preliminary performance data of its dedicated brain positron emission tomography (PET) system. NeuroLF is an ultra-compact and patient-centric designed brain PET system which assists in diagnosing or monitoring of brain related disorders like Alzheimer's disease, Brain Tumors, Epilepsy, Parkinson's disease and others. Despite the minimalistic design and an attractive price-value offering, newest performance data indicate non-inferiority of NeuroLF compared to conventional, room filling and more expensive PET/CT devices. The tests have been performed at the University of Leipzig Medical Center University of Leipzig Medical Center Department of Nuclear Medicine in Germany (Director and Chairman: Prof. Dr. med Osama Sabri). "Preliminary NEMA performance measurements proof the physical-technical capabilities of the system to be ready for collection of first clinical experiences" states Prof. Dr.-Ing. Bernhard Sattler (Head of medical physics and radiation protection at the University Leipzig Meicak Center, Department of Nuclear Medicine). Prof. Dr. med. Sabri and Prof. Dr. med. Barthel at the Department of Nuclear Medicine in Leipzig confirmed this impression being satisfied with the preliminary image quality data and spatial resolution of NeuroLF: "The first data show that NeuroLF produces similar images compared to a conventional digital PET/CT and is not inferior in comparison to such more expensive devices." This conclusion has been supported by other experts in the field who had a chance to preview first image quality data of NeuroLF. Dr. Jannis Fischer, co-founder and CEO of Positrigo explains: "Based on our internal end-to-end simulations we expected such a result but it is obviously much better to obtain real performance data in a clinical department where NeuroLF might be used in the future – this is very encouraging and ensures us that we are on the right path." A summary of the preliminary performance data including an image quality comparison and spatial resolution results according to NEMA NU2:2018 can be found here: Preliminary Performance Date of NeuroLF.
Prof. Simon Cherry new Advisory Board Member
Beside the exciting NeuroLF first results, the company could also win with Prof. Simon Cherry, one of the most accomplished experts in nuclear medicine imaging and instrumentation, as a member of its international advisory board. Prof. Cherry is Distinguished Professor Emeritus of the Departments of Biomedical Engineering and Radiology at the University of California, Davis and is a co-leader of the team that developed the world's first total-body PET scanner, as well as a member of the National Academy of Engineering and National Academy of Inventors in the USA.
"I am excited to be involved with such an enthusiastic team. It is very impressive to see what they have accomplished such a short period of time, and I greatly look forward to supporting them in reaching their goals," states Prof. Simon Cherry
Dr. Jannis Fischer , Prof. Simon Cherry and Dr. Max Ahnen (from left to right)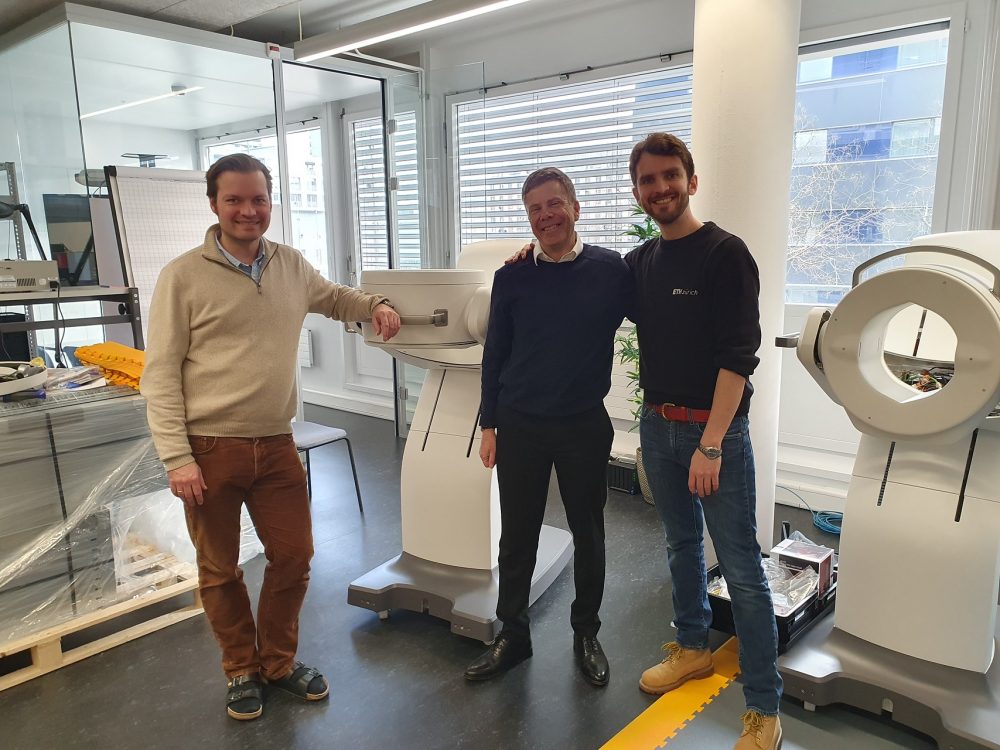 Prof. Cherry will join a strong advisory board consisting of experts in the fields of geriatric psychiatry, medical physics, tomographic image reconstruction, neuro nuclear medicine and, detector systems. "The expertise and experience of Prof. Cherry complements our advisory board and will be an incredible resource for our R&D team. I can't wait to work with him and to discuss our ongoing and future development plans with him," states Dr. Max Ahnen, co-founder and COO of Positrigo.
About Positrigo:
Positrigo is a pioneer in nuclear medical imaging technologies. Headquartered in Zurich, Switzerland, the medical device company was founded in 2018 as a spin-off of ETH Zurich. Positrigo's technology, development, clinical testing and commercialization has been supported by various private investors, the Swiss government and the European Innovation Council. NeuroLF – the company's first device – is an ultra-compact brain Positron Emission Tomography (PET) system that has applications in the assessment of causes of dementias, such as Alzheimer's disease and other brain related disorders.